Thought for the week:
It takes 20 years to build a reputation and five minutes to ruin it. If you think about that, you'll do things differently. Warren Buffett.
This was my first little sheltie lady, the very beautiful  Ch Tiakina The Dream Came Blu. Cara was seven when I purchased her & she came here to LochWind to retire. A champion in her own right, Cara had produced champion offspring in her three litters for Carol Watson (Tiakina), her breeder in Perth.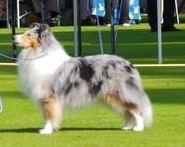 One of her beautiful daughters Abbey, Ch Tiakina Taylr'd In Blu Dreams was RUBIS at the Sheltie Nationals 2011.
Sadly Cara's time with me was cut short by a spinal tumour which was not DM. I only had her for eighteen months. This little angel was such a joy to have around, with a fabulous personality. Even though I only had the pleasure of her company a short time, I really miss her smiling face. Cara endeared herself to everyone she met.
A great introduction to the breed, a true credit to Carol.
I have to admit to being a little surprised at how well the collies accepted their new sheltie friends, even had to hand over the lounge to the two blue girls for the seven months they were around the house.
BUT
All of my girls are house girls and enjoy & deserve to be treated that way.
My second exciting experience with shelties happened in September 2014. In June that year, I had lost both Cara & Lacey within three weeks of each other, one to cancer and the other to a tumour on the spine, so was feeling pretty damn low.
Sandra and Kerry introduced me to a breeder in Perth who was working with American lines.  I was then offered a young blue bitch, Hannah. Previous placements had found her too high maintenance & too noisy to live with in suburbia.
This very generous offer to me, was made on a "Gentleman's Agreement". A litter of two or more pups back to the breeder, then she would to be signed over to me.  If she was not bred in the foreseeable future, then she would be signed over to me and leased back by her breeder at a later date, for the litter owed. That was mutually agreed, all laid out in emails.
Hannah's high energy was diverted into a number of areas and she was a great jogging companion for my friend Ross when he was over from Melbourne. The two of them running the 5 kilometres around the estuary at Bunbury daily.
One of Hannah's favourite pass times was to go and drag Cecil from the bed on the spare bedroom and give him a real dust up click here to view.
Hannah became great mates with Ron who does my gardening,  they often shared a drink and a game after work !
I allowed myself to become very attached to Hannah, safe in the knowledge that she was going to be mine after she had her first litter.  We had been doing agility training at Sandra's, she was showing huge potential, she just needed to have that high drive & energy directed into something she enjoyed.
In January 2015 I delivered Hannah back to her owner as per our agreement, to be bred. At that time I offered to bring Hannah's grand dam Sage, to LochWind to try and get her in optimum condition to breed, as she had sadly missed her last four seasons.
.
Over the six months that Hannah lived at LochWind, the "Gentleman's Agreement" mysteriously morphed from 2 or more pups into 3 or more pups, then added the right to lease her back for more litters in the future.
That was a bit of  a shock!
What did I learn from all this ? It is not what agreements you make, nor if they are in print, which this clearly was, in numerous emails. But it is who you make them with, that will count in the final analysis.
If you received these emails, what would you reasonably expect to be the outcome…
19th September 2014
(Greg) BUT as sage hasn't given me pups in 4 years I was holding her and hoping to get a litter from her being my only other Blue Bitch.. so if I let her go at some point she would have to come home to whelp a litter.  That being the Case I suggested you could take her for a short period and see if you could live with her..( she would be under your feet as she has to be in the action)  if you liked her and wanted her then we could work something out as long as I got a Litter from her I could consider parting with her.
21st September 2014
(Gail) Back to your Hannah… if you  have concerns about letting her come down please don't. You need to be 100% good with it.
15th October 2014
(Greg) I can assure you Gail I would rather Hannah be in WA  than elsewhere and if we both decide she is good for you she can stay as long as I can have a litter from her as Sage has only had the one!! This leaves Hannah as my only other Blue bitch option.   I can't keep and own them all but rather work with people so as to get back something down the road of the same blood lines.
I don't need any signed contract as My word is Good & I hope yours  is also. Apparently  NOT Greg, as it turned out.
If you reneged on Hannah having a Litter it would simply be the last time we worked together.  Having a Philadelphia Lawyer draw up a contract is worthless in my opinion.. I work with people and if they crap on me I walk!! I don't need any nonsense and  don't usually tolerate it!Life can be simple is we let it and working with people is far better than the alternative! contract or no contract.
I would sign her over to your name and then legally she is 100% yours. The gentleman's Agreement would be she comes home for a Litter.
So, regrettably, the only sensible option open to me then, was to return Hannah and Sage. Sandra delivered them back to their owner in Perth,  March 2015, accompanied by a vet certificate of good health, a thank you card and a box of chocolates. No hard feelings, but a lesson well learnt by me.
My very sweet little friend Hannah then produced a lovely litter of two superbly marked bitch puppies, one blue and one sable merle. Followed by a second litter of which two lovely blue merles are now being shown.
So we move on …
After months of researching numerous pedigrees, looking for the right bitches to buy to compliment Uno & other successful lines that are already in this country. I have now been fortunate enough to have secured two very well bred bitches of my own, who I am so looking forward to meeting later this year.
Sure to be an interesting trip !
PHOTOS ON THIS PAGE COPYRIGHT – GAIL JONES