Perhaps it all started here in England when I had my first "Dog" Bruce !
In 1997 I bought my first collie puppy Westlington Leica Legend CD (Nank)  from a farm in Ballingup. Later that year I was to attend my first dog show at Bunbury, as a spectator.
1998 I had never set foot in a dog show ring. I knew no one who was involved. Later that year I started showing Nank. I  met Sandra Yearsley at Bunbury & Districts Dog Club which led to agility & obedience training. Nank was awarded his CD and won a few jumpers and agility trials.
We won some conformation classes, best opposites and had some fun, but it soon became clear that if I wanted to continue showing, I would need a better collie.
So the hunt began !
I spent several years researching pedigrees, finding out about genetic issues that affected the breed etc. Looking at collie types from different kennels around the world. The absolute stand out kennels of the time for me were Tartanside, Barksdale, Twin City, Southlands, Countryview, Highcroft, Milas , Lakefield & Fantasy. I had a vision back then of blending these lines into something quite wonderful. It would be late 1999 before I was to find what I was looking for. In 2000 I  eventually imported my foundation bitch from Highcroft Kennels in America.
Calli was accompanied by the beautiful Ch Barksdale Patina (Felice). A magnificent sable bitch who sadly produced no live puppies for me. Felice was a full sister to Ch Barksdale Blush who was the leading collie in USA at that time.
By early 2000 I had been introduced to Gail Doe of Robgai Collies as well as Leah & Barry Ryan of Vedamea Collies, who had been the first breeders with the foresight and bravery to buck the UK trend and import USA collies. These two pioneers endured a great deal of vitriol for well over a decade, but  they re wrote history in a very positive manner.
After much deliberation Am Ch Highcroft Caliente (Imp USA)  was flown over east to be bred to the then yet to be titled USA hybrid Vedamea The Diamond Beau giving me my first litter under the LochWind prefix.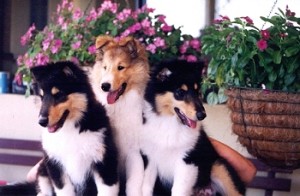 Calli was to produce a litter of six for me on 3rd  October 2000. From that litter I kept my  sable bitch Ch LochWind Arts Degree (Ruby) and a tri male LochWind Artful Dodger (Rupert).   Ruby won from the first day she hit the ring as a baby. Her first group win was under well respected judge Connie Redhead (Landmaster Kennels).
Rupert beat 90 puppies on 3/2/01 at the MKC all breeds show to win Baby In Show put through the classes by breed specialist Don Henley. General Specials by Mavis Cochrane . Rupert was also Best Baby Dog at the Western Classic, with Ruby taking Best Baby Bitch.
Two pups went to Vedamea Collies in NSW in Lieu of the stud fee. The tri bitch  LochWind Artistique (Remy) who from her only two show outings won Minor in Show at the Ladies Kennel Club,  handled by Carol Mulcahy. Remy was also placed 5th in a large quality packed class of 18 at the 2001 Sydney Royal Show, under Mr Ede of Sweden. Handled by Leah Ryan.
Remy is the dam of Ch Vedamea Chic As Elle who was Puppy of the Day at Sydney Royal and also BOB 2005 & 2007.
LochWind Art Ov The Deal (Arty)  her brother, who was pick of the litter was sadly never shown due to injury.
 Calli produced two more lovely litters for me, containing some very successful dogs who won in five states of Australia as well as in New Zealand.
Calli's second litter was sired by … Grd Ch Cathkin Thblu Byu Gesswho HT .
From that 16th October 2002 litter came Ch LochWind Better B Dazzl'd (Logie) . Logie finished with four 25 point BOB's. Took Best Puppy In Show at the Winter Festival. Best in Group at the Western Classic. Australian Bred in Show at the Collie Club Specialty under breed specialist Jane Armatys (Keamaree Collies) Best Opposite Intermediate at NSW specialty under Bill Brokken (Foremost Collies) USA. Logie is 12 yo and still at LochWind.
Logie's blue sister Ch LochWind Better be Witch'd (Lacey) was RUBIS at the Collie Specialty under Jane Armatys.   Under breed specialist Bob Bell (Jenrock Collies) at the International Extravaganza 15/8/2004 Lacey was awarded BOB & Best Minor in Group from and entry of 40 collies.
At the Western Classic in 2004 Lacey was RUBOB both days to her sister Logie and then to half sister Mia, who both won Group.
Litter brother Nr Ch LochWind Better B Good (Lachlan) won Challenge Dog from the Puppy Class at the 2003 Winter Festival among his many wins.
Calli's third and final litter, 24th December 2004 was by my Tartanside  line import. Ch Lochwynde Legendary (Imp USA).  (Quinn)
Two beautiful  champion bitches were born.  Evie went to Owen Wright in  New Zealand and won the Nationals there.
Mia gained her title easily including a Group win under breed specialist Yoshio Mori at the Western Classic.
Mia is the dam of Ch LochWind Exclusive (Blade).
When bred to my Can Ch/Ch Tamaron's Arranbrae Tradition. Mia produced Blade who had his 100 Championship  points for his title at 8 months. Rated by Dogzonline pointscore as Best Collie Puppy of the Year.
In 2002 I flew Ch Lochwynde Legendary (Imp USA) to the east to be bred to a Fantasy bitch I had arranged purchase of from USA. Sadly that breeding never occurred, but Quinn was instead bred to Ch Vedamea Chances Are  and  Ch Vedamea How Sweet Thou Art, that litter produced some excellent collies. I had one pick pup in lieu of a service fee. This lovely bitch Ch Vedamea Art Ov Gold(Peaches) was born 12th November 2002, now aged 12 is still happily living at LochWind.
Two other pups were kept by Vedamea and went to the 2003 Nationals in Adelaide. The judge Val Geddes of Ingledene Collies UK.
These two pups each won their large classes.   Vedamea State Ov The Art (Jaqueson)  and Vedamea Change Ov Art (Rush'n) aquitted themselves well by winning best puppy bitch and best puppy dog. Jaqueson was Best Puppy of Variety. He also won BOB at the Winter Festival in NSW. Rush'n was sold after the Nationals.
In Nov 2005 when bred to Ch Kollyloch Cavendish she produced the highly successful BISS BIS Sup Ch Roxedo Black Raven.
My collies have their profiles on Dogzonline.
Between 2000 and mid 2006 LochWind became the home of my 13 champions and ROM sire.