.
Quote of the week: "You can tell the character of a man by the company he keeps." Winston Churchill.
(Facebook is so scary… everyone knows who you hang out with!)
On the 11th November 2017 after two years showing in Australia, Uno achieved his SUPREME CHAMPION TITLE.
In America he now needs only one more of his progeny to title for his ROM.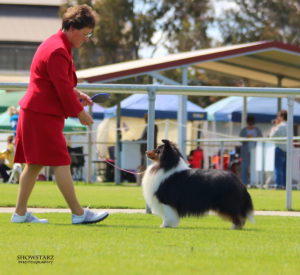 .
Uno finished 2016 as Dogzonline Pointscore.
Number One Show Dog in South Australia – Working Dog Group.
Number One Shetland Sheepdog in South Australia.
.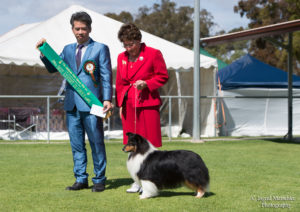 Introducing…
BISS/ Multi BIS/ Am Grd/Can Grd/Aust Ch Grandgables Alfenloch Uno ROMC (Imp Can)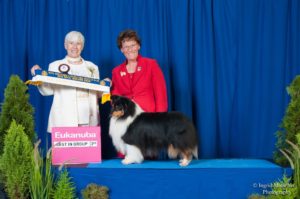 In August 2015 the beginning of a new venture for LochWind. I have been so fortunate, thanks to the generosity of Guy Jeavons and Mark Houston-Mc Millan of Grandgables, to add to the LochWind family, a highly credentialed show and stud dog, who will arrive in Australia in August 2015.
After Uno leaves Grand Gables for Australia, he will be ably represented at Grandgables by his three beautiful sons.  Am Grd Ch/Can Grd  Ch Grand Gables The Chill Factor AOM,  Am/Can Ch Avebury Grand Gables King Coal ROMC & Am Grd Ch/Can Ch Grand Gables Frosted Footsteps. If only this lovely dog can produce half as well in Australia, my goal is fulfilled.
Click to take the tour of LochWind Kennels.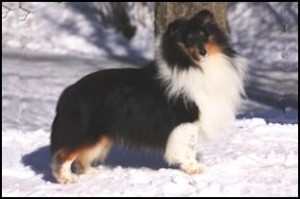 Click here for latest news on Uno BISS Can Grd Ch/Am Grd/Aust Ch Grandgables Alfenloch Uno ROMC.
Whelped on Christmas Day 2010, Uno was ranked Number 4 Shetland Sheepdog Nationally in 2013. A Canadian Grand Champion, who finished his American Grand Champion title 26th May 2015.
In early 2015 he also achieved new Champions in three countries. Through son Can Grd/Fin Ch Grandgables Mr Puss In Boots, a new Champion in Finland. Can/Aust Ch Grandgables Just Flaunt It is now his first Australian Champion. Can/Lux/Ire Ch Grandgables Romantica became his first Irish and Luxembourg Champion and is currently (as of July 2015) the leading Shetland Sheepdog in Ireland with 7 Green Stars.
Uno has been Grandgables number one man for over three years now, with Champion progeny & grand progeny as far away as Finland, South Africa and Ireland.
For his  show record please click here.
Uno's successful sons & daughters can be seen by clicking HERE.
By May 2015, Uno was the sire of 18 Canadian champions with many more close to finishing.
5 American Champions with 3 more close to finishing. His ROM title is in sight.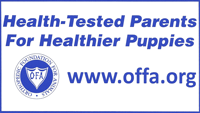 OFA accredited Hips: Excellent.  SS-18749E25MVPI
Full Dentition. Correct bite.
CERF Registered – CEA/CH Clear.
Genetic Analysis Report by Orivet   17.2.2015
Collie Eye Anomaly/Choroidal Hypoplasia – Normal. Clear. No mutations detected.
Degenerative Myelopathy – Normal. Clear. No mutations detected.
Ivermectin Sensitivity/MDR1 –  Normal. Clear. No mutations detected.
Von Willebrand's Disease Type 3 –  Normal. Clear. No mutations detected.
Primary Ciliary Dyskinesia –  Normal. Clear. No mutations detected.
A Locus. Tri Colour. Tan Point.
Based in the eastern states, Uno will be campaigned by my good friend Kerry McKay.
Strictly approved bitches only, by private treaty.
Enquiries to  email Kerry McKay [email protected]
Uno's ancestry.
Uno's sire is the  NWF/ TF sable dog Am Ch Westar Faron ROM
Faron was Bred By Exhibitor Dog at the ASSA Nationals in 2010. Reserve Winners Dog at the 2010 American National under Marcia Bittner.   As a young dog Faron won his 6-9 Puppy class at the American National under Tom Coen.   Faron finished his Championship with three 5 point Specialty Majors and an All Breed Best in Show win under Mark McMillan.
Faron is the sire of 10+ American Champions …
Multi BISS/BIS Am Grd/Can Grd/Aust Sup Ch. Grandgables Alfenloch Uno ROMC
BISS Grd Ch. Westar's Run For The Money CGC BN CD AOM
BISS Grd Ch. Homewood In The Hamptons AOM
BISS Grd Ch. Mindalyn Wishful Thinking
BISS Grd Ch. Heart Lake Angel Hair
CH. Randomcreek Doctor Watson 2015 ASSA RWD
CH. Belmark Larceny
CH. Rockwood and Seabreeze Capital Venture
CH. Westar Paray Notes On A Scandal
CH. Paray Wall Street
with more nearing their titles.
Thank you Mark Hersman for this beautiful photograph.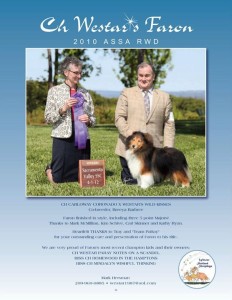 Faron's sire is the magnificent pure for sable dog Am Ch Carloway Coronado AOM.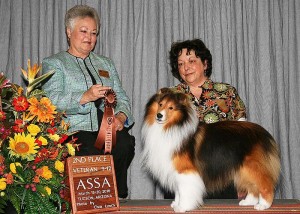 Pictured here taking 2nd place at the ASSA 2010 in Veteran Dog.
DOB: 26/7/2000 Cory was also an Award of Merit recipient at the ASSA 2009.
Hips OFA – Good (2002)   OFA L-C-P Normal (2005)
Uno's dam is the lovely blue merle bitch Am/Can Ch Grandgables She's Outa Deja Blue (Teal).
Teal placed third in AOAC 9 -12 mo bitch class ASSA Nationals 2010.
ASSA Nationals 2015, Teal made the cut in BOB bitches.
Bred by Guy Jeavons, Mark McMillan and Judy Quirk.
Diane Fitzpatrick (Alfenloch),  then bred her to Am Ch Westar Faron to produce Uno.
Currently Teal is owned by Lyn Krivanek of Dundee Shelties and Allison Volpert.
These two beautiful puppies below are by Am Grd Ch/Can Ch Jesstar Nirvana ROM CC  out of Teal and belong to Lyn & Allison.
Thanks to Lyn for supplying me with these beautiful photos of Teal and her pups.
.
.
Teal's sire is the renowned Am/Can Grd Ch Apple Acres Expedition ROM ROMC AOM (Trek) who needs no introduction.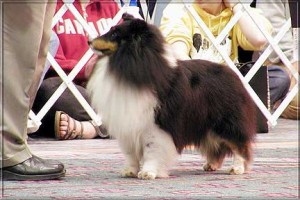 Trek was Award of Merit winner at the ASSA Nationals in 2005, 2006 and 2008.
Trek is the top Canadian Sheltie sire in history with 82 Canadian champions.
Trek is the sire of 38 American Champions.
Trek was ASSA Top Producing Sire in 2007.
Trek was Shelties Online Top Producing Specialty Sire in 2008.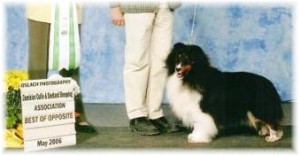 Trek is …
OFA excellent.
Thyroid TgAA Negative.
Eyes – Clear.
VwD – clear.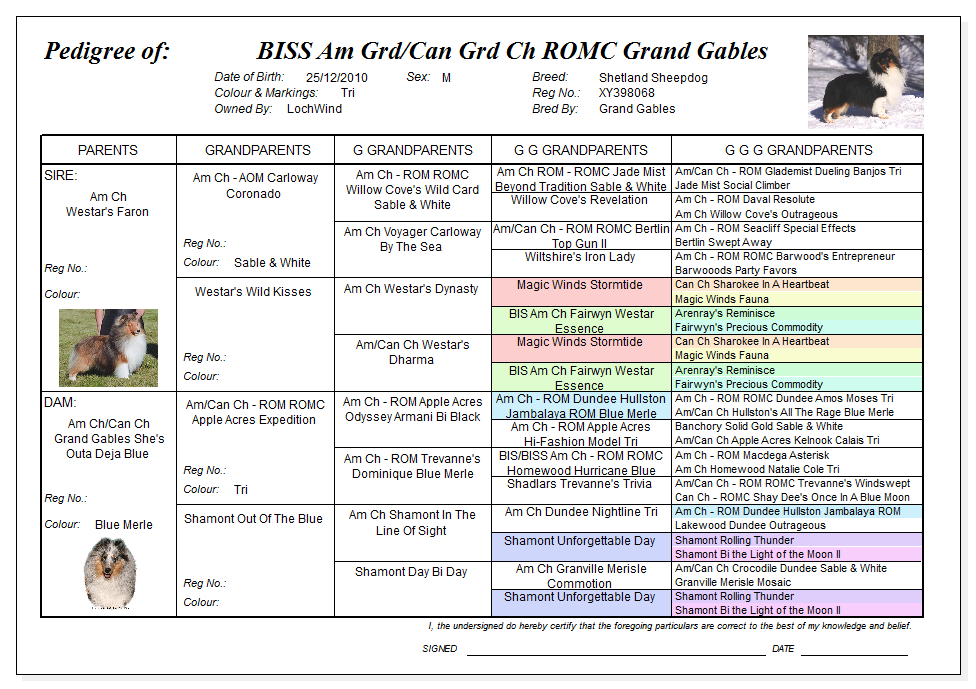 .