Peaches  12.11.2002 to 30.8.2016. 
She was my pick puppy in lieu of service fee for Quinn.
By Ch Lochwynde Legendary (Imp USA).
Out of Vedamea How Sweet Thou Art (Nyobe).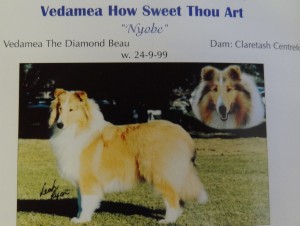 Peaches commenced her show career on 22nd of February 2003 in Perth, placing second in the Baby Puppy Class to our very lovely blue bitch LochWind Better B Witch'd (Lacey).
 On the 2nd March 2003 at the prestigious Western Classic, Peaches turned the tables on Lacey, from seven entries Peaches was awarded Best Baby Collie by well known International All Breeds Judge Mrs Virginia Lyne (Canada).
Going from strength to strength at her third show on 21st March, Peaches took her class from her "stablemates" LochWind Better B Witch'd and LochWind Better B Dazzl'd. Then ousted the Baby Dog, Vedamea Knight Ov Fantasy, for Best Baby Collie,thus putting her in contention for Best Baby In Group, which she duly carried off in fine style!
In April 2003 Peaches' sister Vedamea Change Ov Art (Rush'n) who is on the campaign trail in NSW, also took Best Baby In Group.
May 11th, tomorrow Peaches will be out of Baby Class – finishing Baby In Group under breed specialist Sue Henley. Taking her third Baby In Group from only 5 shows.
On the 17/18th May, Peaches brother, Vedamea State Ov The Art  (Jaqueson) and sister, Vedamea Change Ov Art (Rush'n) took out Puppy Dog & Puppy Bitch Classes in Adelaide at the Collie Nationals, judged by Val Geddes (Ingledene Collies – UK).
Congratulations Quinn on siring three outstanding pups in your first litter !
Returning from his trip to the Nationals, his following show on the 22nd June 2003 in Sydney Vedamea State Ov The Art was Reserve Challenge Dog to his much awarded kennel mate Ch Vedamea The Diamond Beau. His next outing saw him take RUBOB over newly crowned Grand Champion Lamerton Midnight Shadow. A great effort for a seven month old puppy against mature and seasoned competition ! 

Peaches has really been a popular choice of judges since moving into Minor with a first up Reserve Challenge, hotly followed by Challenge Bitch for 25 points at the Collie and Shetland Sheepdog Clubs Specialty Championship Show on the 6th July under specialist judge Mrs Norma Griffin of NSW.
With 37 collies entered at the Winter Festival on the 12/13th July 2003 under a panel of International judges, Peaches was awarded Reserve Challenge bitch to our Ch LochWind Arts Degree (CC & BOB). At only seven months of age her exceptional qualities were recognised when she was awarded Runner Up Best of Breed by Mrs D Buxton (USA). The following day under Mr K Buxton (USA) Peaches took out Best Minor in Group.
In September 2003 Peaches was awarded Best Collie Puppy at the Melbourne Royal over Grd Ch Vedamea I Spy My Fantasy. The judge was breed specialist Yoshio Mori.
Peaches has twice won Minor in Group and Junior in Group at the Perth Royal Show in consecutive years.
On the 4th September 2004 at The Ladies Kennel Club Championship Show "Peaches" was awarded Challenge Bitch for 25 points & Best Of Breed.   Pulled out twice for consideration in Group, she was  awarded Intermediate in Group by judge Mrs V Jackson of Victoria. Unfortunately for us, Best In Show was awarded to the Standard Poodle, also from the Intermediate Class which prevented Peaches from going any further.
In 2006 I only entered two shows. At the Western Classic Peaches was Challenge bitch, with Grd Ch Yambari Sweet Revenge taking Res CC. My two males were BOB & RUBOB.
April 2015 – Peaches is still in residence with Logie at LochWind and at just over 12 years of age, looks fantastic. In great condition Peaches could be with me for another 2 years if I am lucky.