The mighty Quinn !
DOB: 24.12.2000
By: Ch Tartanside Capital Gain
From: Ch Tartanside Aliage ROM
Bred at Lochwynde Kennels by Jeanne Welch, Anne Woodcock & John Buddie.
I had dreamed of owning a Tartanside dog for such a long time. I was really excited to have the opportunity to buy this beautifully bred puppy.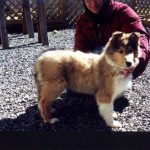 I was also incredibly lucky to have "virtually" met Bob & Sheila Wortmann who own Sharob Colllies. They offered to keep Quinn for the six months it took to have his quarantine requirements carried out and then send him on to me.
Bob & Sheila had purchased Quinn's litter sister Lochwynde Bodacious. These lovely people took Quinn to show training and raised him in their home as one of their own, giving him the best ever start in life.
In September 2001 I received a beautifully trained, super confident young man.
Quinn easily attained his Australian Championship, with a Group win under John Rice (Merriwick Collies) along the way !
Quinn was a winner in Western Australia, as well as in Queensland when on lease to Jane Armatys at Keamaree Collies,
Quinn sired two litters in NSW and two in WA.
From these litters he produced Ch Vedamea Art Ov Gold (Peaches), who was Best Collie Puppy at Melbourne Royal Show in 2003. Peaches  litter brother the tri dog Vedamea State Ov The Art who was best rough collie puppy at the Nationals under Val Geddes (Ingledene Collies UK).  His sister Vedamea Change Ov Art  who won the Puppy Bitch class at the Nationals in 2003. This bitch when bred to Ch Kollyloch Cavendish produced Sup Ch Roxedo Black Raven.
Ch LochWind Color Mia Rainbow, group winner at the Winter Festival with an entry of 54 collies, under breed specialist Yoshio Mori (Japan). Dam of the beautiful blue merle puppy flyer, (100 points by 9 months of age) Ch LochWind Exclusive who was top Puppy Dogzonline in 2005. NZ Ch LochWind Color Coded was Best of Variety the NZ Nationals under Ms Rhonda Lane (C'est La Vie Colllies).
I kept frozen semen from Quinn so one day who knows, maybe he will have more progeny in the ring.
Quinn had the most superb temperament, huge coat & beautiful full muzzle. His expression won many hearts.