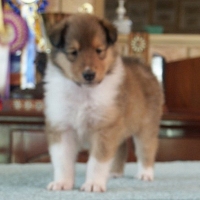 Evie was one of four beautiful puppies from my Am Ch Highcroft Calienté's last litter whelped 24.12.2003 . One sable male, two sable bitches and one tri bitch. The girls are pictured below.
In 2004 an initial enquiry was made to us by Owen Wright of New Zealand, regarding the possibility of acquiring a collie from us with quality American bloodlines. 2004 culminated in Owen and his wife Noeleen visiting with us in Western Australia, to assess our collies first hand. This resulted in Owen purchasing our lovely sable and white puppy bitch.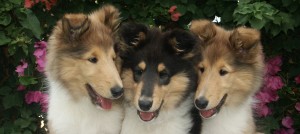 Having already been awarded a Baby in Group in WA, on 26th May 2004 Evie was exported to Auckland, New Zealand.
Owen's mother had bred and exhibited collies & shelties in the early 1900's which led Owen into handling at dog shows whilst in his early teens.  Breeding collies in his own right as an adult Owen worked in tandem with the now legendary breeder, Glad Osbourne of Glendallo Collies. Collies were exchanged between the breeders in NZ and Australia.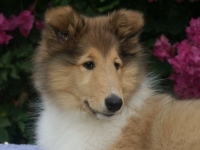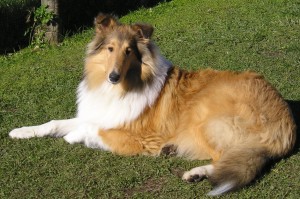 An International All Breeds judge since 1963, Owen has judged in over 15 different countries. Receiving such prestigeous appointments as judging an entry of 246 collies at the Scottish Kennel Club All Breeds Show, The Victorian Collie Club Specialty and The Perth Royal Show. It was however whilst judging in America that Owen fell in love with the qualities of their collies, and vowing to one day own one from the most successful families, bringing that collie back to the Shaky Isles to re establish the length & balance of head, he felt was on the decline in many countries.
We are proud to have been in a position, through importing from world reknowned familes such as Highcroft and Tartanside, to have provided the opportunity for these sought after bloodlines to establish a new line in another country. Hopefully "Evie" will live up to her illustrious heritage set in collie history by such greats as Tartanside, Highcroft, Executive, Starr's and the other great names figuring prominently in her immediate pedigree.
Evie has made quite an impression since her arrival in New Zealand. Her first show on 15th August was at Kumeu Show where she was awarded Best of Breed and Runner Up In Show!!  Next on the 12th September, Evie was shown at the Huntly Championship Show under Mrs RM Brown (Qld) Evie & Owen were awarded Best of Breed and Puppy in Group.  RUBOB was awarded to Owen's other import Vedamea Reigning Diamond.
On the 4th February Evie was awarded her NZ Championship title from the Intermediate Class under judge Mr R McMurray from Canada.
The pinnacle Evie's career in New Zealand was at the 80th Anniversary Collie Club Nationals. This Auckland show catered for Bearded, Border, Rough & smooth Collies. Under judge Rhonda Lane of Ce La Vie Smooth Collies, Evie finished the day BOB, Junior in Show, RUBISS.
Her next mission was three shows over 3 days spanning 22 to 24th September.
First the New Zealand Kennel Clubs 50th Aniversary Nationals under Mrs Lynn Lee of NSW – Evie was awarded Challenge Bitch and Runner Up Best of Breed.
Next was the Collie Clubs Specialty Show under Breed Specialist Mrs Leigh Shanahan of NSW. In this show Evie was Reserve Challenge Bitch and Puppy In Show.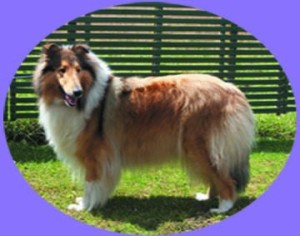 The final outing was at the Working Dog Club Show judged by Kim Masters of Queensland. The result was Challenge Bitch and Runner Up Best of Breed.
What an outstanding young lady Evie turned out to be. Owen then very generously returned her to me in 2006, as he felt he was then too old to raise a litter.
As I was no longer showing I gave Spencer, Evie and Blade to Louise Crossman to continue the lines and show these dogs in South Australia.
Evie was bred to Spencer and on the 6th December 2008 produced a beautiful litter for Louise. The pick of the litter was a beautiful sable male who was named Fletcher.
I was devastated to hear the news from Louise that at four and a half weeks Fletcher had an accident where he sustained fatal internal injuries.
Louise kept a nice tri bitch LochWind Foreign Affair (Zoe) and beautiful sable bitch from the litter called LochWind For Sir With Luv (Marley), which Louise showed with good success. This bitch was close to her title when Louise rang with the sad news that she had died from a collapsed lung.