Ruby was the only sable bitch in my first, the "Art" litter.
A keeper from day one, she just had class written all over her.
Attitude was never something Ruby was short of and through out her life.
Oh was she the feisty one !
Out of Am Ch Highcroft Calienté (Imp USA).
By Ch Vedamea The Diamond Beau.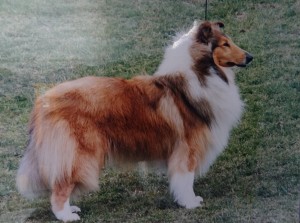 I kept two pups from this litter to show, Ruby and Rupert the tri dog.
Ruby started as she intended to continue… winning !
As a Minor she won at the Western Classic.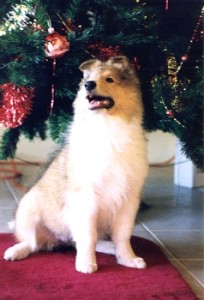 At eight months of age Ruby won Challenge Bitch for 17 points, at her first show since the Baby Classes.
Going RUBOB to Grand Champion Barcoo Chief Among Braves, as well as taking Best Minor in Group that day.  Judged by Mr R Watson from Tasmania.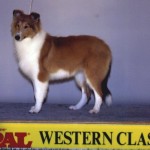 On the weekend of 18/19th May 2002 Ruby earned another 25 points by taking Challenge Bitch and BOB under Mrs B Pontin of Victoria, who judged at the world renowned Crufts Dog Show in England this year. Then again took Challenge & RUBOB under Mrs L Rickard of Victoria (of "Wongan" Springer spaniel fame).
25th May 2002 another big weekend for Ruby under International All Breeds Judge, Mrs Connie Redhead (Landmaster Cattle Dogs – SA). Ruby began by defeating an entry of 20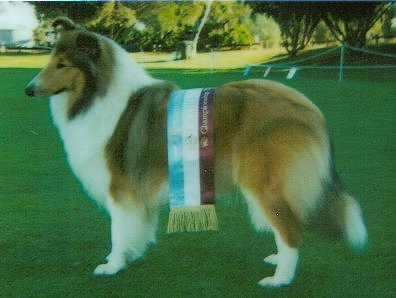 bitches to take the Challenge. She then took Best of Breed again over a Grand Champion.
Giving her a further 25 points. There was a total entry of 36 collies in the show.
Ruby finished off a big day by claiming Intermediate in Group & Best in Group. Putting her into the Best In Show line up.
September 2002 was another of Ruby's big moments when she won Best Of Breed and Intermediate in Group at the Perth Royal Show under international collie specialist judge Mr Horazio Pizzorno. Ruby's kennel mate Cathkin Etched In Ivory taking Reserve Challenge Bitch. Ruby was to repeat this feat in 2005 again taking Best of Breed at the Perth Royal Show under judge Jorge Nallem.

My two girls teamed up again at their next outing together to take both the Challenge and Reserve Challenge bitch awards at the prestigeous Western Classic under International judge Mrs Virginia Lyne (Canada).
Ch LochWind Arts Degree achieved almost all this from the Intermediate Class before her second birthday.
Continuing her winning ways, Ruby, always a force to be reckoned with, took Challenge Bitch and Best of Breed, at the 2003 Winter Festival. Whilst our young up and coming puppy bitch, Vedamea Art Ov Gold, at only seven months of age, took reserve Challenge Bitch and Runner Up Best Of Breed.
Ruby lived her days out at LochWind and went over the rainbow bridge on 14.12.2010.