By late 1999 I had been searching for quite some time, for a beautiful bitch to be the foundation of my LochWind Collies. I was really taken with the Tartanside Collies and loved their "look".  I found a photograph of the Number One collie in America, which was the very beautiful sable and white bitch Am Ch Barksdale Blush ROM. I then made contact with Nancy McDonald.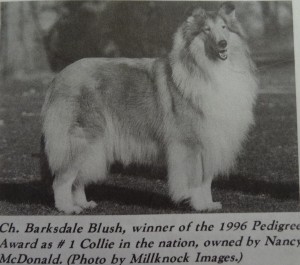 The week I agreed to buy Am Ch Highcroft Calienté, I had an email from Nancy offering me Blush's 4 year old full sister, Felice, in whelp to Ch Shenstone Sympatico. How could I say no ?
Now I was bringing in two spectacular bitches.
Whelped on 9.2.95  Felice had only one litter in America by Ch Kitleigh Knickerboker on the 26.5.96. In that litter were 3 champions Ch Barksdale Persona, Ch Barksdale Rosewood Teak and the good stud dog Ch Azalia Hill's Barksdale Beau CD NA NAJ HT himself the sire of 4 Champions. Beau was the sire of the Best Brace winners at the CCA Nationals in 2001. He also has a CCA Versatility Award.
Felice came from an American winter into 40 degree temperatures in Perth with a month in quarantine. The last week she was clearly struggling. In Jan 2000 she whelped two tri puppies, but they did not survive.
A year later I sent her to Leah Ryan to be bred to her lovely blue dog, Rainshade Continental Drift.  Again Felice had two puppies a blue bitch which died shortly after birth and a lovely big sable boy who Leah managed to keep alive for ten days.
I bred her once more a year later, to my Ch Lochwynde Legendary. Felice gave me three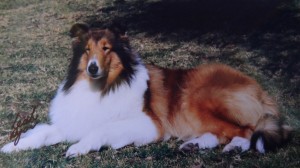 puppies.
They lived for less than 48 hours, despite three of us doing around the clock shifts staying with Felice and her litter. As my partner was a vet, Felice had the best possible chance, but obviously there was a serious issue there and we could never find out what despite numerous tests.
Felice was then sterilised and lived with me until the day she died. Buried at LochWind next to Calli. My two beautiful girls at peace together. They were two of the most beautiful collies, both inside and out that anyone could ever have had the privilege of being owned by.
Felice almost taught me how to handle, she was so well trained. Shown only a few times she won CC's and was Res CC at The Winter Festival her first time out . To show her was like having an animated piece of gold on the end of the lead. Stunningly beautiful girl with a personality as big as her heart. I will always be grateful that Felice was a part of my life.