Kerry and I met in 1997.  Kerry was living in Perth and showing collies. I was showing my first collie Westlington Leica Legend CD, so our paths crossed quite "literally" in the show ring at CAWA.
At the time we met, Kerry was showing a tri bitch Ch Tandie Tri On The Scene who was a winner at Specialty level. Over the years we became good friends. Kerry would set up my cabana for me at dog shows to hold my spot, as I lived 200klms from the CAWA grounds, whilst Kerry only lived close by.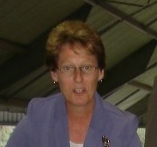 Many other good collies have been shown by Kerry including  Ch Barjena Over the Moon , Ch Yambari Sudden Impact, Ch Boness Botany Boy, Grd Ch Shonja Talk Of The Town who was bred by Kerry, also won In Group awards and Best In Shows.
Kerry would often help me groom and handle, as I frequently took a dozen collies to a big show.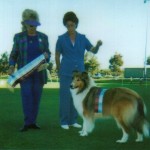 This picture was taken in 2002. Kerry with my Intermediate bitch Ch LochWind Arts Degree winning Best In Group at CAWA  under judge Connie Redhead.
When I stopped showing in 2006, Kerry came to work for me part time in my grooming business "Pets On Blair", which I had started in  Bunbury in 1998. We worked together regularly, until Kerry and her husband Jack, moved to Mt Gambier in South Australia.
After moving to the eastern states in 2008, Kerry set up her own grooming business "Kerry's Grooming" and became interested in Shetland Sheepdogs. Currently showing the very well performed sable dog multi Best In Show winner, Sup Grd Ch Sharndah's The Jagger's Edge and the promising Shonja Edge Of Roses.
Rosie is Kerry's up & coming bitch. On Dogzonline she was No 1 Rising star in South Australia for her breed. Also No 1 Rising Star, Australia, for the breed. Rosie only needs 29 points for her title, this young sable bitch has had Class in Group wins to date.
In 2015 Kerry is the President of Mount City & District Kennel Club in South Australia. Kerry has been showing for  39 years now, but has in the past been restricted in breeding dogs by the necessities of family life in suburbia. The move to Mt Gambier gives Kerry the property to increase her scope as she now has property to keep more shelties.
Kerry's love has always been showing her dogs, which are always immaculate at home and in the ring. Kerry's show dogs are groomed and presented to perfection in a very professional manner.