Valid as of 2016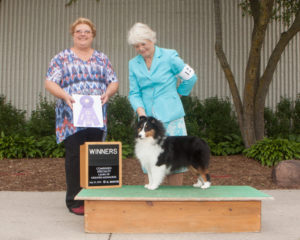 If you are considering importing a dog of any breed from another country, it would serve you well to do your homework thoroughly before embarking on this course of action. There are so many things that can go wrong, no matter how hard you try. Be prepared for either end of the spectrum and everywhere in between.
I have only ever imported dogs from USA and Canada.
From 1999 – 2004 I have imported 7 Collies. All went without a hitch.
In 2015 – I have imported 4 Shelties. 1 from Canada  all went well. 2  from California with a few issues.
In 2016 – 1 from Illinois. A total debacle, the dog never arrived.
I can only tell you the pitfalls I have encountered, in an effort to help you avoid falling into the same traps. A mistake, no matter how simple, can be very expensive, can delay the import date, or require tests to be redone to be within the required timeframe.
Make no mistake, if you get it wrong, your dog can be denied entry into Australia, put to sleep on arrival, re exported back to the country of origin, or detained for a longer period in quarantine and retested or re treated all at your expense.
Getting it right the first time is critical for you and your dog.
Depending on the age of the dog you want to import, it takes roughly six months to work through all the AQIS export requirements. This means you will most likely have to pay board for your dog during this time. Shop around as that can be from $5 per day to $20 per day. On top of that you will need to pay for all the veterinary work that is needed which currently is costing approximately US$1000 (2015/16). Including board this will amount to around  $6000 (or much more depending on the daily fee you negotiate)  by the time your dog is ready to leave the USA. Three months prior to your dog leaving USA, you will also have had to pay up front to AQIS $500 for an import permit and $1650 for ten days quarantine. The airfare will be around $2000 to Australia depending on where you are flying from, including a suitable crate. You may also have internal flights both in USA and Australia which will add probably another $1500. So without the purchase price and any potential extra costs at quarantine, if all goes smoothly this will conservatively be estimated to cost you approx. $10,000.
You can see why you DO NOT want this to go wrong !
Who you trust in USA to do the export protocol for you is critical. An online persona can be anything they want to put out there. Try to do some research about who you are trusting your dog to. If you do not know anyone in that country this will be a very hard task. Eventually you will probably just have to take someone on trust. It may work out very well or your worst nightmares may come true. Do not go into this with rose coloured glasses.
DO NOT believe that the person at the other end even cares if you lose your money, (if you pay them up front, they will not miss out) or if you never receive your dog. Just assume they do not care, unless you actually know them.  You will have to do all you can to ensure that everything is as it should be.
Drive the car, do not be a passenger !
This may sound very cynical, but all I can say is from 1999 to 2004 I imported 7 collies from 4 different breeders with no trouble what so ever. Great ethical people who went the extra mile. The breeders were great and I am still good friends with them. Times seem to have changed markedly since 2004. The GFC has no doubt payed a part. I have imported 3 shelties successfully. One from Canada with no problems at all. Two from USA with a few issues. One has been a total disaster, as a result there is no way I can ever import the bitch concerned, she had to be given to a breeder in another country that would allow her entry. In short I lost $10,000 and a lot of planning and hopes for this beautiful bitch.  Had the AQIS guidelines I sent in print actually been understood and/or correctly followed, the problem of contracting Ehrlicia by tick bite, was easily avoidable.
Make sure as many people in the export chain as possible, identify the dog. Send a photo of the dogs face, also show and off side, clearly showing markings, to the vet and to the shipping agent so they can identify the dog from the photographs as well as the microchip number. Have them sign the photograph and put their business stamp on that photo stating they have identified the dog as the correct dog that you purchased. This may help prevent you receiving the wrong dog ! Yes it can happen and has happened to me. At least if the worst happens you have proof of intent to defraud. Then if you want to take it further, you have some evidence to produce.
Malfeasance or not, you will never know the true reason when something goes wrong. But you will certainly be the loser.
Quality, effective communication is essential for success.
If you cannot get that reciprocal communication happening, move the dog  quickly !
I cannot emphasise that enough.
If something goes seriously wrong, expect that you will probably be hung out to dry. Expect that you will receive no help to rehome the dog or rectify the situation in any way. In short you will have lost $10,000 and the dog. Also be in the situation where you have to figure out a way of getting that dog into a good place for the rest of it's life, which can be challenging if you do not live in that country. Be prepared for that scenario.
Some very basic information is that you MUST have a reliable person doing the export protocol for you, who clearly understands what is required. They must be literate and capable of reading and fully comprehending all the AQIS requirements in fine detail. If at any stage you have the gut feeling that they do not have the ability or desire to understand what is required, if they trivialise the importance of getting it right or getting it done on time, then save yourself a lot of heartache and expense, move your dog immediately. In the long run this will save you a fortune and maybe your dog's life or health.
My advice after my last experience, having talked to some top breeders there since, is that before you start this journey make sure that the person who has the dog knows the following…
Pay them monthly on receipt of an invoice. (DO NOT ever pay the full amount upfront as I always did.)
Pay a small amount in advance if you wish, then only ever pay in arrears. That puts the onus on them to communicate effectively & regularly with you.
Arrange to pay the vet directly on receipt of their invoices.
If the dog is to be shown whilst there, make sure you agree to when and where your dog will be shown.
This approach will cost you extra in bank transfer fees, but it may save you a fortune in the long run. Also they will try to do the right thing, as you will owe them money each month. Do not believe that you are doing the right thing by paying the whole amount upfront as I always did in the past, it certainly backfired badly last time. Once you have parted with your money they have no accountability to you. I have had no receipts at all from the person who had my last bitch nor from the vet who did all the export work, despite my numerous requests by email and on the phone.
Once you have purchased your dog, the first step is to visit the AQIS website http://www.agriculture.gov.au/cats-dogs this will give you a detailed plan on how to go about following these steps.
PRINT this out along with the STEP BY STEP guide. Post it registered mail requiring a signature to the person doing the export protocol. Make sure they follow it to the letter.
Of utmost importance is MAKE ABSOLUTELY CERTAIN that your dog is adequately protected against tick bites for the entire time it is in USA ! In the last 30 days pre export they must be blood tested for Ehrlicia, Brucellosis, Leishmania and Leptospirosis. If your dog is bitten by a tick and contracts Ehrlicia or Lyme disease you will never get the titre level down low enough to import that dog into Australia. So at that point as I was forced to do you can kiss your dog goodbye, if they have not been kept on a reliable tick preventative. This is so simple and so important !
If your dog is not already vaccinated for Rabies you will need to have the dog taken to a vet be microchipped and vaccinated for Rabies. With two of my collies in 2003 & 2004 that were vaccinated with a Fort Dodge Rabies vaccine, they failed to return a titre. That meant re vaccinate with a different vaccine, wait another 30 days then re test. You do not want that to happen as the RNATT test is now $400. Re test is another $400 plus an extra month board. I would avoid using Fort Dodge as I has two dogs that required re testing and an extra month in USA. The other dogs all returned an adequate titre first test. They were vaccinated with another brand of vaccine. If you are buying an adult dog this will most likely already have been done. That will cut one month off the export waiting period as you can jump to the next step immediately.
If your dog is already microchipped with a Trovan, Avid, Destron or other ISO compatible microchip and also has a current rabies vaccination you can immediately have your vet draw blood for the RNATT test. Once that has been done you will receive an RNATT result and if that is correct level then you sent the paper work to the Government vet for stamping and signing. Once you have that piece of paper you can apply to AQIS for an import permit. The dog must remain in USA 180 days from the date the blood was drawn for the RNATT test.
When you receive your import permit, you then apply and pay for quarantine. As of 2016 there is now only ONE quarantine station servicing the whole of Australia !  Book as soon as you can, or you may not be able to get in when you want.
The worst is now over. You have several month where nothing is required.
All that remains are treatments for internal and external parasites on consecutive months, carried out by a vet and documented with microchip number.
Within thirty days of export the dog must have the blood test for Ehrlicia, Brucellosis, Leishmania and Leptospirosis.
The dogs vaccinations must all be current for the period that they will be in quarantine. That includes Canine Influenza if they are coming from USA.
The AQIS website has a calculator which allows you to select the country you are importing the dog from and the date you wish to import it. In conjunction with the Step by Step guide it tells you exactly when to get each test done. Many of the tests can be done at one vet visit. If you sit down and work the dates out you should be able to have all the export work done in five vet visits.
The last step is the signing off of all the relevant paperwork by a Government Vet. If you are using an export agent they will handle this part for you.
For most of my dogs I have used
Sandy Sivert. Jet Pets LAX. Ph: 310.823.8901×102. Fax: 310.305.8297  https://www.jetpets.com/
I could not speak highly enough of Sandy, she can achieve the impossible. Nothing is too much trouble and she gets the job done.