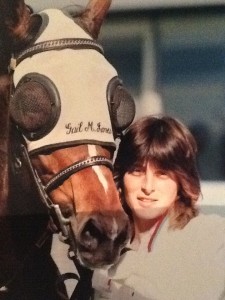 At Ashbrook in 1987, I met Natalie Bellometti. Then a young stablehand for Trevor Lamb's previous trainer, John Carpenter.
When I took over as private trainer at Ashbrook, I dismissed all their current staff with the exception of Nat.
As time went by Nat became my stable foreman, then on my retirement Nat trained successfully in her own right.
When I retired, I gave Nat a 2yo filly that I had bred. By the Bletchingly stallion, Diamond Finalé. Foaled on 4.9.1991 out of my $500 yearling sale purchase, the unraced Serheed mare, Tauna Dora.
This filly named Just Like Diamonds (Gemma) became a prolific city winner owned and trained by Nat.
Retired from racing on 7th December 1997, Gemma then produced the good city winners Cubic Zirconia by Duberval. Four Rich Men, by Pricelessly who was a good winner in Malaysia. Elara Diamond by Euclase, who went to Sterling Smith in NSW. Gemma's final foal by Danetime, sadly broke a leg when only a few weeks old. Nat never bred her again and refused some lucrative offers to sell her as a brood mare. Gemma is retired at LochWind.
Nat also took on the temperamental, but capable winning mare from my stables, Nira. Never an easy mare to deal with, Nat managed to coax the best out of her, to her credit  winning provincial and metropolitan races with her.
Another filly I bred that Nat trained, was by my stallion Gain Control. Out of Phoenix Rose a good Jon George mare I trained. This grey filly was named Just In Control and was also a winner when trained by Nat.
Quality Belmont winner Run Forest Run,  by the Biscay stallion Forest Falcon, out of my mare Tauna Dora. This half brother to Just Like Diamonds, was also in Nat's stable.
Now in 2015 Nat still owns Gemma and does FIFO work on the gold mine at Boddington and Ore mine at Mt Keith in the north of the state.