AWARD OF MERIT at ASSA 2018. Under well respected judge/breeder Mr Brian K Cleveland (Voyager)
140 Champions competing for Best of Breed.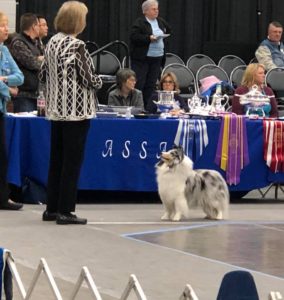 They say every cloud has a silver lining, maybe it is true !!!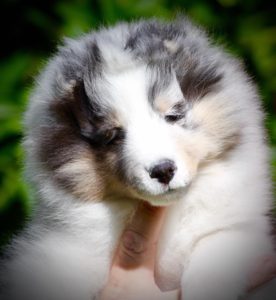 Karma in action.
On November 14th, 2016
I was fortunate enough to  secure this stunning 15 month old bitch for LochWind's breeding program. Kim Furlong (Masterpiece) Pippa's breeder was switching from breeding AOAC to a new Sable and White line.
Remaining in USA to have a litter in 2017, Pippa was entered for ASSA 2018.
Kerry & Michelle were at ringside in the USA to cheer Pippa on, when she was awarded an Award of Merit.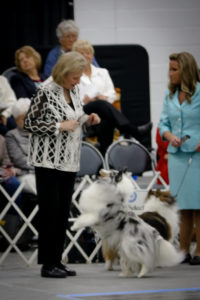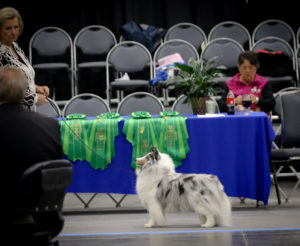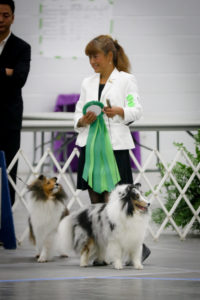 A very long wait, but hopefully well worth it for a truly quality individual with a beautiful pedigree, that will bring so much to our current breeding program here at LochWind.
Pippa has passed her CERF eye test, DNA and Hip/Elbow scores with flying colours.
My precious young lady has arrived safely at LochWind in May. Pippa will be bred later this year.
I look forward with great anticipation to seeing her progeny in the ring in 2019.
On 12th October Pippa whelped a smashing litter of 5 pups, by Ch Peerielee Midnite Delight.
2 Bitches and 3 dogs.
I have my eye on a lovely blue merle bitch and the tri dog at 2 weeks of age.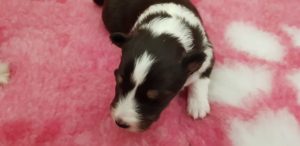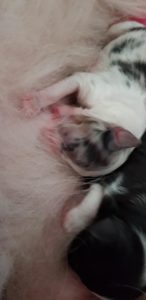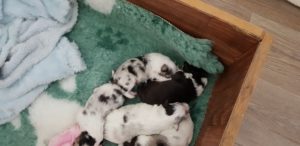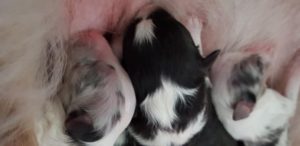 *
The litter is very pleasing at this early stage.
Pippa's parents are …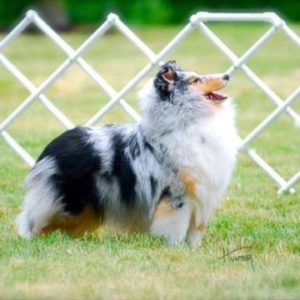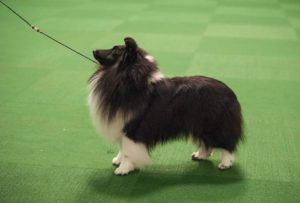 By: Am GCh Serenity's A Walk In The Park
From: Am Ch Freedom of PaRay
Pippa and Robgai Rainbow Connection (Rayne) will form the foundation of our new blue merle line.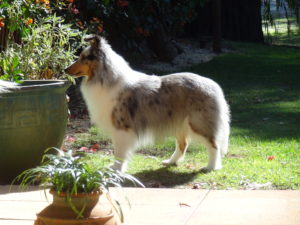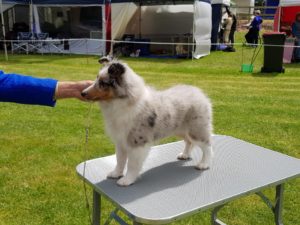 RESULTS FROM ASSA 2018
Judge: Mr Brian K Cleveland (Voyager)
BOB: GCH Solange La Dolce Vita
GCHG Solange Valedictorian x GCH Solange Soundstage
B: Linda Nicholas
O: Stephen Carlisle, Chad Romines, Linda Nicholas
BOS: CH Westar's Cartel
CH Westar's Faron x Westar's Summer Kisses
B: Mark Faron
O: Jeri Wilson and Mark Hersman
SD: GCHG Solange Valedictorian
GCH PaRay's Cambridge x GCHS Solange Significant
B/O: Linda Nicholas
SB: CH Lynphil "Now You See Me"
Lynphil Mirror Mask x Lynphil Playamate
B: Crystal Wendling, Phil Wendling and Dorothy Greenaway
Owner: Rita Von Pusch, Crystal Wendling, Phil Wendling
Awards of Merit (in no particular order)
GCH Grandgables Turn On The Charm
GCH Solange Valedictorian x CH Grandgables Charmed I'm Sure
B/O: Guy Jeavons, Mark Houston-McMillan
GCH Homespun Casual Blues PT OAJ NA NF
Dundee Sharrow Santa Cruz x CH Homespun Allspice Silverlicious CD NAJ PT
B/O: Julie Iverson
CH Ilemist As It Should Be
CH Ilemist As You Like It x CH Cimmaron High Maintenance
B: Julie Desy, Mary Christensen, Sue Worsham
O: Kim Furlong, Julie Desy
GCH Bellebrae Serenity's Valentino
CH Mistybrooks Time For The Blues x Serenity's Ringside Romance
B: Dr. Craig Bowen
O: Wanda and Timothy Fletcher, En Harriet Chang
GCHB Kell Happy
CH Laureate Be My Guest x Kell Elated
B/O: Amy Massey, Jeannette Powers-Hodson, Abbey Thomas
GCH Laureate Who Knew
GCH Grandgables Turn On The Charm x Laureate Invaluable
B/O: Kim Aston and Peter Culumovic
CH Solange Emoji
GCH Grandgables Turn On The Charm x GCHS Solange Significant
B/O: Linda Nicholas
CH Sunway Kate Spade
GCHP Jesstar Nirvana x Sunaire Mainstay Marla
B: Nick Joines, Joel McCarty
O: Jo Ann Pavey
GCH Masterpiece La Perla
GCH Serenity's Walk In The Park x CH Freedom Of PaRay
B: Kim Furlong, Tray Pittman, Paul Flores
O: Kim Furlong
GCHG Mystic Ava Gardner
Mystic's The Show Must Go On x Ravendale's Tartan Showgirl
B: Tracy Robinson
O: Tracy Robinson, Ni Yadong
GCH Hart Lake Angel Hair
CH Westar's Faron x Heart Lake Flash Back
B/O: Tina Bjork
CH Shadow Hill's First Class
GCHB Shadow Hill's Blueprint x CH Shadow Hill Dancing At Night
B: Misty Crawford, Jane Hammett Bright
O: Jane Hammett Bright
CH Coastalview's Blueberry Hill
GCH Linkridge Blackberry x Coastalviews Winter Shades
B: Judy Tulloch
O: Karen Linkletter, Lyn Krivanek
GCHB Sunebank Broadway Bound
CH Shamont Campaign Slogan x CH Sunebank Madison Avenue
B: Wendy Moutn, Carolyn Vack
O: Marni Sharoff