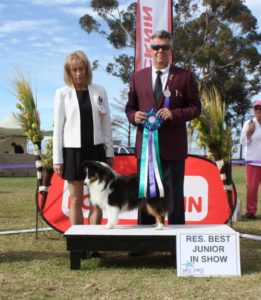 Thought for the day:
Apples never fall far from the tree !

January 2016.
Introducing my very beautiful new baby… Ava.
A superbly bred bitch, from the up and coming young blue merle sire, Ch Sunaire Mainstay Integrity.
Ch. SUNAIRE MAINSTAY INTEGRITY record as of 30.11.2017
(Champions: 7 US, 5 Canada, 1 China, 1 South Africa)

• CHIC # 110017

• NWF and Non Bi-factored

…


• Full Dentition (OFA)

DMS test results "aaBb 02:01/02:01 – Low Risk"

Offspring Accomplishments:

• 5 with BISS wins.
• AOM winner ASSA National.
• 1 Group One winner
• 3 with multiple Group Placements.
• Multiple Specialty winners
• Several Best in Sweeps & Best Puppy in Show
• 1 Bronze Grand Champion
• 1 Grand Champion

Sire: BIS/BISS GCH. Jesstar Nirvana ROM

Dam: BISS GCH. Sunaire Opulence And Bling ROM
Brad's dam Julianna, standing 14 1/2 inches, is AM Gr Ch Opulence and Bling, owned by Kathy Ryan (USA). Juliana is the beautiful Grand Dam of my Ava (Lochwind Freeze Frame of PaRay Imp USA). Julianna was this year's recipient of the OFA and ASSA 2017 Champion Of Health Award! She is the first female Sheltie in the USA to win this award!! "The annual award is sponsored by the OFA and is intended to recognize a dog, and their breeder, that has had significant accomplishments in the ring, in the field, in performance events, as a producer, or as a working dog, AND has the full complement of health testing appropriate for its breed." It is wonderful when these attributes are celebrated, honoured and recognized when one is aiming to breed beautiful, healthy dogs.
With his first litters showing in 2016, Brad is represented by fourteen Champions at this time.
Brad's very beautiful tri coloured sister Ch Sunaire Hearsay Mainstay (Noelle) was placed at the ASSA 2014 at 8 months of age. Finishing with two Specialty wins at only ten months of age. Including Best Opposite Sex, over Specials.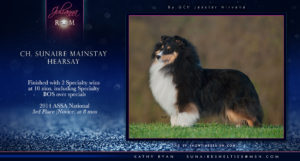 Ava's dam PaRay Allure (Stella), in January 2017 was WB at her first show in Palm Springs. The following show 29th January WB. BOW. BOB. Over top specials. Then on to a group second. She only requires a few points to finish after her new litter by Ch Chisterling Last Call
As of March 2018 Stella is now loved and owned by Katheryn Horton.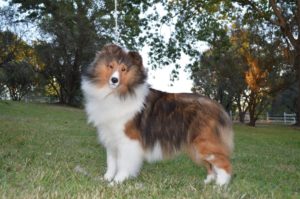 Allure is a litter sister to Grd Ch PaRay Paramount who with limited showing, as of August 2016 is ranked Number 2 Sheltie is USA.
.
Ava took to the ring in a Specialty show in USA for her debut, on 29th July under Mrs Debbie Ferguson.
Resulting in Winners Bitch for her first American points.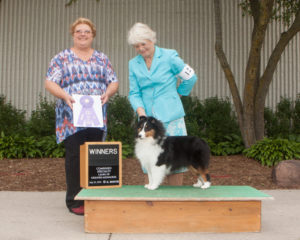 .
January 2017
Currently showing with Joanie Wylie in Cape Town, South Africa.
I am really proud, happy, as well as a little bit envious, to announce that Ava made her debut for Wylwind and acquitted herself very well, with Best of Breed and Junior in Group.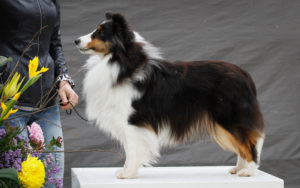 2017
22nd Jan – Best Junior in Group, BOB and then won the Herding Group!!
5th Feb – BOB. Jnr Grp 2nd. Herding Grp 3rd.
25th Feb – CC. RUBOB. Jnr Grp 4th.
26th Feb – CC. RUBOB. Jnr Grp 2nd.
July 2017 Ava finished her South African Championship for Wylwind.
We could not be happier, what a great start to the year.
Looks like (Click on her name) Ava is very happy with her new life and enjoying the beach.
On 16th January 2018, Ava produced a lovely litter by Wylwind Chasing Rainbows.
5 pups. 1 Blue merle bitch. 3 tri bitches and a tri dog.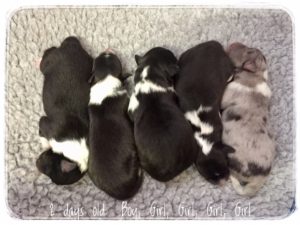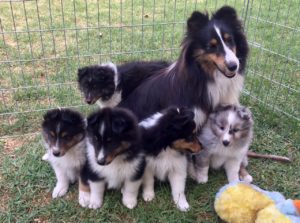 .
On 23rd September 2017 Ava's lovely sable litter brother PaRay Tailor Made for Harradei (Imp USA) won his first Best in Group in Australia.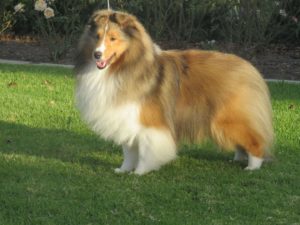 Taylor now has two very promising litters on the ground for Harradei.
I will be keeping a watchful eye on their progress and wish them all the best.