In late 1997 I purchased a 10 week old sable puppy from Anne & Terry Purnell in Balingup. This was eventually to be my introduction to the world of dog showing.
Initially in the early 90's I had joined Bunbury and Districts Dog Club and began obedience classes with my Great Pyrenees bitch Despreaux Sweet Desire (Cody). Bred by Faye Cartledge in Wyong, NSW. Faye and I have kept in touch over the years, she now has her Despreaux Kennels based in Grabben Gullen in NSW.
I had improved as a handler since those days meaning that Nank easily gained his CD, along with a few nice wins in agility and jumpers events.
It was at B&DDC that I met Sandra Yearsley. Sandra was keen on agility and was later to become an integral part of the club along with father Derek and mother Renee. Our friendship is still strong today.
Little did I know that Nank was going to set in motion a chain of events that led me to buying rough collies from the USA. This all stemmed directly from the fact that he had the imported American collie Clarion Down Under in his pedigree, which made me start investigating American lines.
This picture of a very appealing puppy had me totally sold on the American look.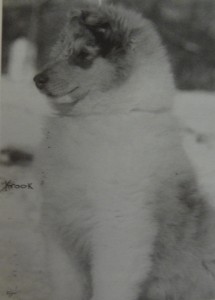 Nank may never have been an outstanding show dog, but he was a great boy and my constant companion for many years.