Two of my beautiful collies that I showed, were retired to a great forever home together, here in the South West.
Marie & Pat Connolly initially took LochWind Artful Dodger (Rupert aka Doop) when he was about 8 months old.
I had shown Rupert, my beautiful tri boy, twice in the Baby classes. A winner at The Western Classic, as well as being Best Baby in Show (All Breeds) at the Ladies Kennel Club Show.
I had high hopes for Rupert's show career and future at stud, that was never to come to fruition. At 8 months, with terrific movement and conformation he sadly only had one testicle fully descended. I made the painful decision to cut my losses, sterilise him and place him in his forever home.
This trait is genetic. I was well aware that the best pups he sired would likely be affected and  not show material. His bitch pups when bred, would quietly pass on this undesirable trait. Luckily, Calli never had any other litters with this problem.
Rupert had a great life, only passing away in October 2014 just a few days before his 14th birthday.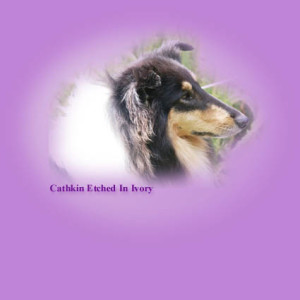 About a year after Rupert joined the Connolly clan they also took on Joy, a small tri bitch that I had purchased in late 2001 from my friend Ross Campbell in Victoria.
Joy won a few Challenges in the show ring, also taking Reserve Challenge bitch to my Ch LochWind Arts Degree at the 2001 Perth Royal and at the 2002 Western Classic.
Joy will be fourteen on the 14th June 2015.
Now enjoying the exclusive attention of Marie and Pat, Joy looks set to stay with us a while longer.