Can Ch/Ch Tamaron's Arranbrae Tradition (Trad).
Born on 5th August 1998, Trad arrived in Australia in December  1999.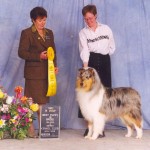 Trad's sire is Am/Can Ch Highcroft Tamaron's Contender,(Rocky) who is a litter brother to my Am Ch Highcroft Calienté (Imp USA).
Rocky was Best of Winners at the 1996 Collie Club of Canada National Specialty Show under Dorothy Welsh and completed his title at 9 months of age.
Rocky to date has produced 18 Champions and 5 pointed offspring.
Can Ch Tamaron's State of Mind,(Stacey) like her son Trad, finished undefeated at 7 months. In her first litter when bred to Ch Gambit's Restless State she produced among other now titled get, BISS/Int'l/Can Ch Tamaron's State Of Confusion who has been a great winner and sire at Tamaron and also was Best in Specialty at the CCC Nationals in 1997.
Trad was Runner Up Best of Breed to my Ch LochWind Arts Degree at the Perth Royal Show 2002, when owned by Sue Henley. This was under collie specialist Mr Horatio Pizzorno.
Trad was rarely seen after gaining his Australian Championship. Used only  once or twice in Australia.  Bred to the tri bitch, Vedamea Black Saphire, Trad produced  Ch Arranbrae USA Connection.
I purchased Trad in winter 2005. It took some months to get him ready to be seen in public again.
I entered him in only four shows.
12th Feb 2006  Best In Group. B&DDC
25th Feb 2006 Challenge Dog. HK&TC
6th Mar 2006 BOB.  The Western Classic.
14th Jul 2006 CC & RUBOB. The Winter Festival
The beautiful Trad proved all he needed to in those four shows. He was retired.
In 2006 Trad was bred to our Quinn x Calli daughter, Ch LochWind Color Mia Rainbow.
On the 3rd June 2006, Mia whelped the "Ex" litter which was  comprised of seven puppies. These pups were DNA clear eyed.
Ch LochWind Exclusive  who easily attained the 100 points for his title by 8 months of age, was ranked number one Collie Puppy in Australia, by Dogzonline Pointscore 29.4.2007 shown by Jane Armatys, International judge and breed specialist, of Keamaree Collies.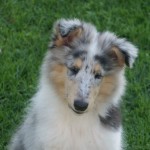 The Ex litter contained some spectacular puppies that were never shown. I had made the decision to stop showing at that time. So all bar two were sterilised and pet homed.
On 6th August 2006 one exceptional, pick of the litter male pup, was sold to Merkin's who were exhibitors/breeders in Queensland, he was the tri dog LochWind Executive.
Five other beautiful pups were …
LochWind Extradition.  (Steel) Shown by Fiona Tomney in SA.
LochWind Exposé. (Posy)
A lovely bitch that Myrna Shibboleth was very complimentary about, when she stayed with me after judgjng the Nationals in 2006.
LochWind Explorer.  (D'Arcy)
BBIG at only show under breed specialist Owen Wright at B&DDC
LochWind Exactly. (Denzel)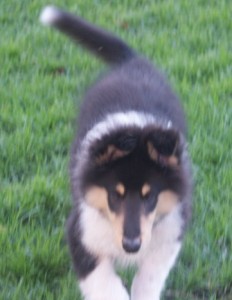 LochWind Extra Special. (Erin) Lives with my friend the Callows in Busselton.
In April 2006 Trad went to live with collie Dallas, now owned by my friend Suzanne Darke in Chidlow.
Finally, Trad lived out his life in luxury with Suzanne and friend Dallas, as his beautiful spirit so richly deserved.
RIP Traddy Trousers, my beautiful boy. Thanks for the memories. 1998 to 2009.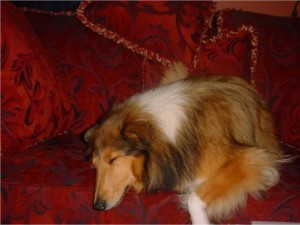 Dallas chilling out at Suzanne's.