In 2003 I was fortunate enough to be offered this lovely sable dog by Don & Leslie Jeszewski of  renowned American kennel Highcroft Collies.
At the time "Spencer" was the youngest collie to title in America in 2003. By the time I purchased him he had been used at stud by Leslie, Overland  Kennels of Marcy Fine and many other breeders. This meant he attained his ROM in America after his arrival in Australia.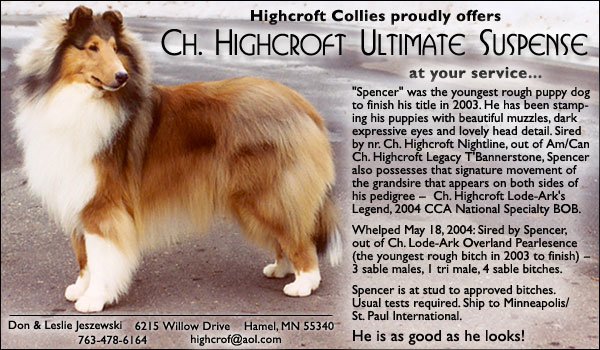 Spencer easily achieved his Australian Championship with a RUBIS along the way.
Respected judges and long time breeders John & Carol Mulcahy of Kazjs Collies were the only people at that time to recognise Spencer's qualities. Flying over from NSW with her champion bitch Kazjs Glimmer O Gold. Carol was well rewarded for her efforts when that breeding produced a cracking litter full of Champions.
These include Australian Supreme Champion,  now Irish Champion Kazjs Sir Spence. In March 2018 Sir Spence had sired 15 champions.
Ch Kazjs Stike A Pose. (Katie)
Now in Ireland.
Ch Kazjs Rumour Has It. (Krystal)
Now in Ireland.
Ch Kazjs Shameless. (Lana)
Now with Bewitching Collies.
Ch Kazjs Strike Force. (Kelly)
Now with Mazarelli Collies.
Along with NZ Ch LochWind Color Coded & Ch LochWind Executive, Spencer was given to Louise Crossman when I retired from showing. Spencer's wins for Lou included RUBIS in NSW.
Sir Spence has been a prolific sire in his own right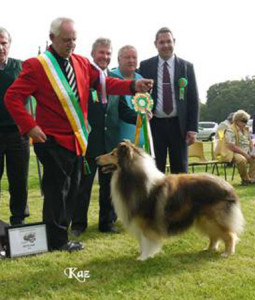 leaving behind in Australia some lovely progeny including the Nationals BIS winning Ch Burdekin Bossy Boots.
Today there are no less than seven USA imports from Overland Kennels, residing in Australia that double up on Spencer in their pedigree.
These include…
Ch Overland Truth or Dare with Arranbrae Kennels, WA.
Ch Overland Touch Down with Swinbrad Kennels, NSW.
Ch Overland City Lights with Joshwyn Kennels, SA.
Overland Likely Story with Breagha Kennels, NSW.
Ch Overland Talent Scout
Ch Overland Hidden Talent
Ch Overland Truth Be Told – All 3 with Naywe Kennels, NSW.
So Spencer's legacy is assured in Australia . There may yet be a few surprises yet to come !
The surprise is here … Pennie, bred by Gail & Michelle Doe at Robgai Kennels in Victoria. A beautiful young lady from frozen semen. Pictured here at 8 weeks in June 2015.
Below another beautiful frozen Spencer daughter.
Sue Henley used frozen semen from Spencer on her bitch Ch Burdekin Blind Date, who is by Aust Sup Ch/Ire Ch  Kazjs Sir Spence. This lovely bitch is a litter sister to Ch Burdekin Bossy Boots who won BIS at the Nationals. The breeding resulted in one beautiful bitch puppy, Arranbrae Causin' Havoc. (Havana)