DESPREAUX SWEET DESIRE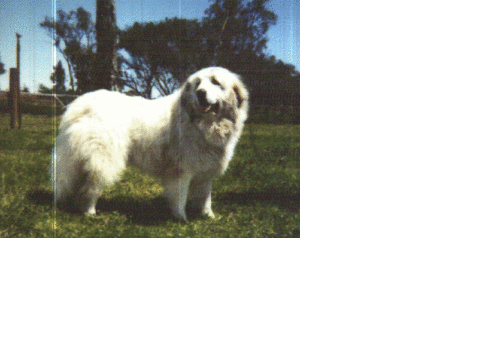 In the 1980's and early 1990's I had two Pyrenean Mountain Dogs.
I absolutely love this breed !
My first girl Bunny was probably not a pure bred but was one of the best dogs I have ever owned.
Loyal, faithful and my best friend. We did pretty much everything together at the racing stables. Bunny was affectionately known as the stable foreman.
Bunny passed away in 1989 aged 12, it broke my heart. I still miss her dearly and think about her most days.
In the early 1990's I purchased a bitch puppy from Faye Cartledge, Despreaux Kennels in Wyong, NSW. Cody was never shown as I still a professional racing stables in those days, so Cody was purely a beautifully bred pet.
I was invited to write a few articles about her life in WA by the Penn Dutch Pyr Club in America and had a very nice friendship with the editor of their newsletter in those early days of the internet.
Cody passed away aged ten.